We're delighted to be back open for live performances, which will play to non-socially distanced audiences from Friday 3 September.
Thank you for your continued support. With our upcoming Autumn season, there's plenty to look forward to!
Guidelines for attending events:
We have been granted the use of Society Of London Theatre & UK Theatre's 'See It Safely' mark. The mark certifies that we are complying with the latest Government and industry COVID-19 guidelines, to ensure the safety of our staff and audiences.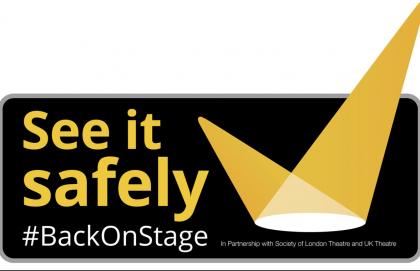 You must not attend a performance if you are feeling unwell with any symptoms of COVID-19 or have been identified as a close contact of someone who has had a positive Covid test – please contact the Box Office up to 24 hours prior to the performance to request a customer credit for your tickets if this is the case.
Covid-19 prevention measures in place:
Will I need to wear a face covering?
For the safety of all our audiences and staff, as a condition of entry we require you to wear a face mask whilst you are in The McMillan Theatre's Front of House Areas. (exemptions apply). Once seated you may remove your mask to eat and drink. Thank you for your cooperation.
If you are exempt from wearing a face covering it would help our front of house staff and fellow audience members if you wear an exemption badge which can be downloaded here.
---
How will my ticket work?
The majority of tickets will be e-ticket or print-at-home ticket. This will allow you to enter our venue more easily, minimise the amount of time you may have to queue, and reduce contact with the front of house team.
---
What happens if I have Covid and can't use my tickets?
We will continue to ensure that you have maximum flexibility by allowing the cost of your tickets to be credited back to your McMillan account up to 24 hours prior to the performance – so if someone in your party is confirmed as Covid positive or has symptoms, there is no need to worry.
If these circumstances apply and you cannot attend please contact the Box Office via info@mcmillantheatre.com
---
Will I still need to provide contact details for Test and Trace purposes?
The Government has said that they expect the Test, Trace and Isolate system will remain necessary through the coming autumn and winter but checking in or providing contact details to venues will now be voluntary.
We will continue to provide QR codes for people to check in using the NHS app, and other options for people to give us their details for Test and Trace, and strongly recommend that all our visitors continue to use this system.
---
What should I bring with me?
Please keep all belongings to a minimum and with you at all times.
---
Will I need to have my temperature checked?
We don't currently plan to take temperature checks.
---
What are the social distancing rules?
As of 19 July, we will be able to open at full capacity so you may well be sitting next to other people.
We will continue to ask you to maintain a safe social distance where possible when queuing to take your seats and moving around the theatre. You may need to pass someone to take your seat in a row – to mitigate risk we recommend wearing your face covering while moving around the theatre.
There are certain seating areas that will continue to be a socially distanced option. To find out about such seats we recommend contacting the box office directly for the show you wish to attend.
---
What other safety measures are in place?
To help keep you safe the theatre will be thoroughly cleaned throughout the day, including before and after all performances. This will include the disinfecting of public areas including toilets, floors, doors and furniture.
Front of House staff and cleaners will follow all safety guidelines.
We have also installed kick-pads on toilet doors reducing your need to touch them.
Hand sanitising stations have been set up for your use. We ask that you sanitise your hands upon entering and exiting the building.
Our Fresh Air Handling system - This system continually extracts the air from the auditorium and replaces it with fresh air.